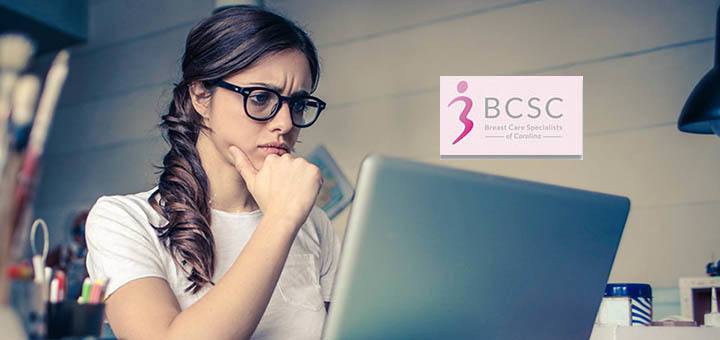 WHEN SHOULD I SEE A BREAST CARE SPECIALIST?
Have you noticed a change in your breasts? Symptoms like lumps, pain, discoloration, and spontaneous discharges are signs that you need a doctor's attention. The question is: which type of doctor should you see first? What's the difference between a family practice doctor, a gynecologist, and a breast care specialist?
There's no wrong place to start, as long as you schedule an appointment as soon as you discover something unusual in your breasts. Early detection is the key to favorable outcomes for benign (non-cancerous) and malignant (cancerous) breast issues.
In many cases, a gynecologist or family practice doctor will detect a breast abnormality during a routine exam or mammogram before a woman notices on her own. However, when women notice changes in the way their breasts feel or look, they may not be sure which conditions different medical professionals can diagnose.
Internal/Family Medicine Doctor
An internal medicine doctor, also called a family practice doctor, treats patients with everything from the common cold to back pain. They don't typically perform gynecological exams. Instead, they refer patients to a gynecologist for pelvic exams or other female-specific health concerns. However, some family medicine doctors will conduct a breast exam as a part of their full annual health evaluation.
If an internal medicine doctor discovers a lump or gets abnormal results back on a mammogram, he or she will refer the patient to a breast care specialist.
A gynecologist is a physician who specializes in women's health. A lot of women, especially those who are young and in good health, only visit a gynecologist. It's common for young women to see their physician just once a year for an annual gynecological exam. At that time, they will have a pap smear, a breast exam, and a mammogram if they are old enough.
If a routine mammogram shows something abnormal, the gynecologist will notify the patient and then refer her to a breast care specialist.
If a patient is diagnosed with cancer, a breast care specialist may refer her to see a medical oncologist. The oncologist will determine whether chemotherapy would be a beneficial treatment for the patient. The medical oncologist will also determine whether the patient would benefit from endocrine therapy to treat hormone-related cancers.
Radiation oncologists specialize in radiation therapy. A breast care specialist may refer patients to a radiation specialist if he or she thinks that it could be valuable as part of a full treatment plan.
Generally, when something has changed in a patient's breast, all roads lead to a breast care specialist. After an internal medicine doctor or gynecologist discovers something abnormal in a patient's breast, they refer the patient to a breast specialist for a diagnosis. In most cases, the patient will already have had a mammogram. The breast care specialist will perform further tests to determine whether the patient's lump or other symptoms are signs of benign breast disease or breast cancer.
A breast care specialist will typically perform an ultrasound and, if warranted, an ultrasound guided biopsy to diagnose the abnormality. Patients may also choose to undergo genetic testing to learn about their predisposition for cancer.
If the specialist determines that removing breast tissue is warranted, he or she will then perform breast surgery. If the tissue is cancerous, the breast specialist will make a determination about whether a referral to a medical oncologist and/or a radiation oncologist would be beneficial to the patient.
WHY CHOOSE A FELLOWSHIP-TRAINED BREAST SURGEON?
Fellowship-trained breast surgeons like Dr. Princess Thomas Williams are general surgeons by training who have completed additional training after finishing their general surgery Residency. Dr. Thomas Williams completed her Breast Fellowship at Yale University and was honored to be the first black female Fellow that the institution has ever had. While there, she trained in medical oncology, radiation, genetics, breast surgery, and survivorship. She has undergone rotations and additional training in all aspects of breast health.
Dr. Thomas Williams is certified in hidden scar surgery, which is an additional certification that is rare among breast surgeons. Her hidden scar training has made her an expert in determining the ideal location to put an incision to remove cancerous tissue and also have a cosmetically pleasing outcome. The certification has helped Dr. Thomas Williams achieve surgical outcomes that are medically thorough while also maintaining patient's self-worth as they heal.
Because she is committed to excellent patient outcomes, Dr. Thomas Williams also utilizes ultrasound guided biopsy for in-office diagnoses. In her experience, she can diagnose nine out of ten breast issues without operating on a patient. Instead of undergoing anesthesia, surgery, and recovery to discover that a breast lump is benign, Dr. Thomas Williams will perform a brief biopsy in-office.
Using local anesthesia, Dr. Thomas Williams uses an ultrasound to locate the abnormal area for a targeted biopsy. In most cases, the incision is so small that it doesn't even require a stitch. There is no downtime after the biopsy, patients can shower after 24-hours, and they heal without a scar.
How a surgeon diagnoses a breast issue is a personal preference. However, Dr. Thomas Williams had undergone extensive training specific to breasts, which aids in her minimally invasive diagnoses. Only when she feels that it's absolutely necessary does she recommend breast surgery.
FROM GENERAL SURGEON TO BREAST SPECIALIST: DR. THOMAS WILLIAMS' PATH
Dr. Thomas Williams is a Columbus, GA native and, although she has no medical professionals in her family, knew that she wanted to become a surgeon from a young age. When she was in middle school, she accompanied her great-grandmother to a doctor's appointment where she was diagnosed with a condition that required surgery.
At an appointment with her great-grandmother's cardiologist, Dr. Thomas Williams expressed interest in pursuing medicine. The surgeon, who is still her mentor today, invited her to join him in the operating room to watch one of his procedures. From that point on, she was sold!
Initially, she intended to pursue cardiovascular surgery. However, her path took a different turn during the third year of her surgical Residency. She met a young woman who had recently had a baby and had been diagnosed with breast cancer. It floored her that someone so young could have breast cancer.
She followed that patient through her entire course of treatment, and the experience transformed Dr. Thomas Williams' vision for her future. After completing her surgical Residency, she pursued her Breast Fellowship at Yale and then went into private practice.
DO YOU HAVE BREAST HEALTH CONCERNS?
No matter where you are in your breast diagnosis or treatment journey, we'd be honored to assist you on your path to healthy breasts. Visit bcscarolina.com or call our office at (704) 769-3800 to schedule a consultation.